Post doc positions
See also the page offering engineer positions, that can fit or be adapted to a post-doc need.
Musculoskeletal mannequin animation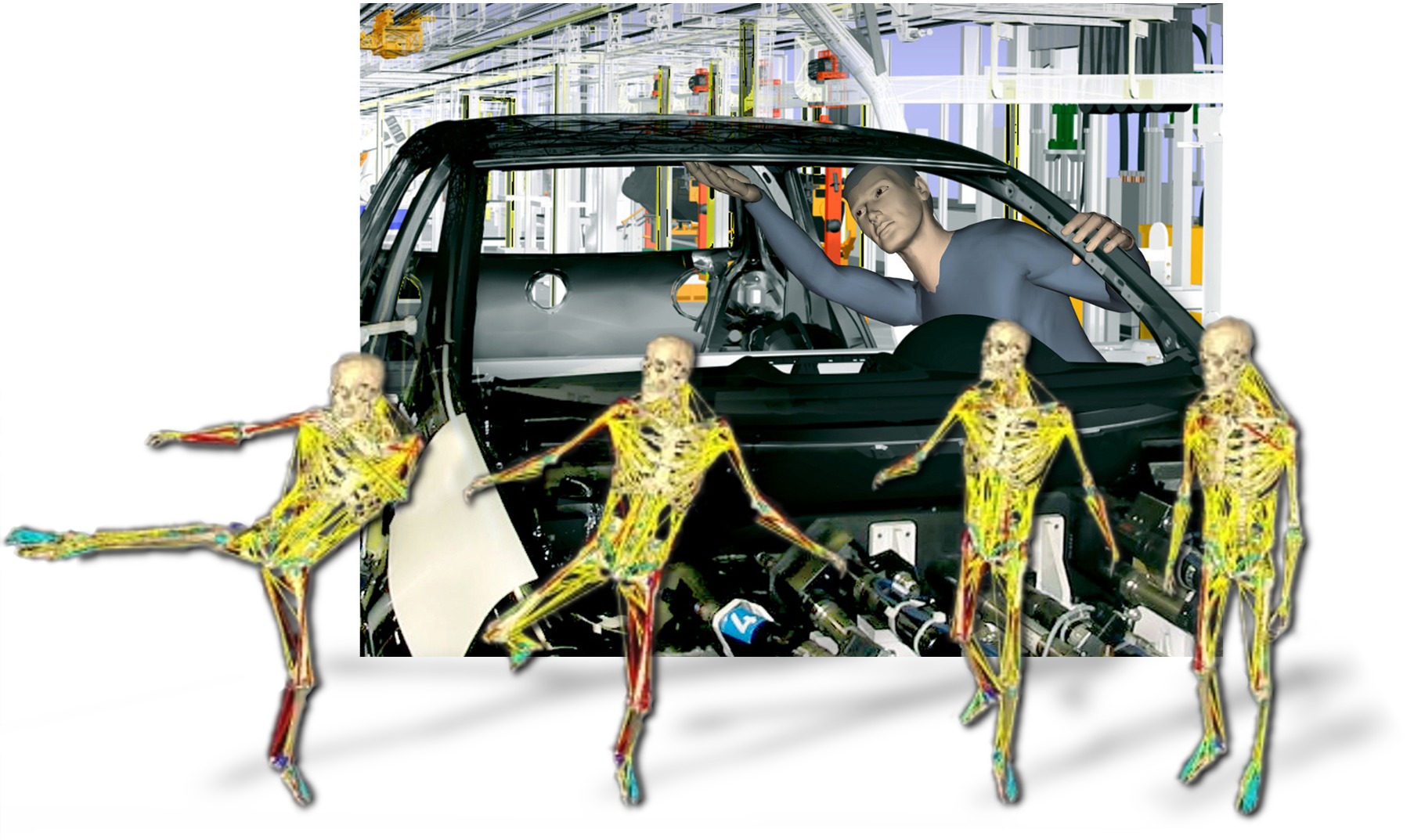 The post-doc would develop from the state of the art or compile from available software a musculoskeletal human model. This model would then be animated using the motion generation tools of the team (multi-objectives control and motion planning). The naturalness of the generated movements would be tested against the movements of human subjects using the motion-capture system of the laboratory. Depending on the interests of the post-doc, the technics might be applied to the humanoid robot HRP-2 as well.
Details in a pdf file (in French, contact us for English) in french.
Designing a prototype of a metastable passive walker
The goal of the post-doctoral position is to give an experimental proof of concept on the importance of an actuated head and trunk to passive walkers stabilization. In a previous work [ 1,2 ], we have shown in simulation that a controlled head on a passive walker can largely improve the stability (in the sense of Poincaré). This is true even on uneven terrain. In a recent work [ 3 ], we propose a simulation framework allowing optimizing the physical parameters of a robot implementing the proposed control law. This was achieved thanks to a codesign approach.
The next phase is to build the robot.
Details in a pdf file in english.
Les Topos de l'action anthropomorphe
Ce sujet de recherche porte sur l'étude des géométries qui sont à l'œuvre dans le cerveau, en harmonie avec l'ensemble du système nerveux, et l'ensemble du corps, afin de mieux gérer la complexité des interactions avec le monde, complexité due au monde aussi bien qu'à l'organisme vivant et à ses composantes. L'étude fait écho au travail du roboticien. En effet, un problème essentiel en robotique est celui d'exprimer les actions réalisées dans le monde physique en termes de commandes motrices pour la machine. Le robot commande des modifications de ses propres configurations dans un espace, qui correspond à ses propres paramètres internes, à des algorithmes choisis pour lui ou élaborés au fur et à mesure en tenant compte de ses propres contraintes physiques.
Details in a pdf file in french.